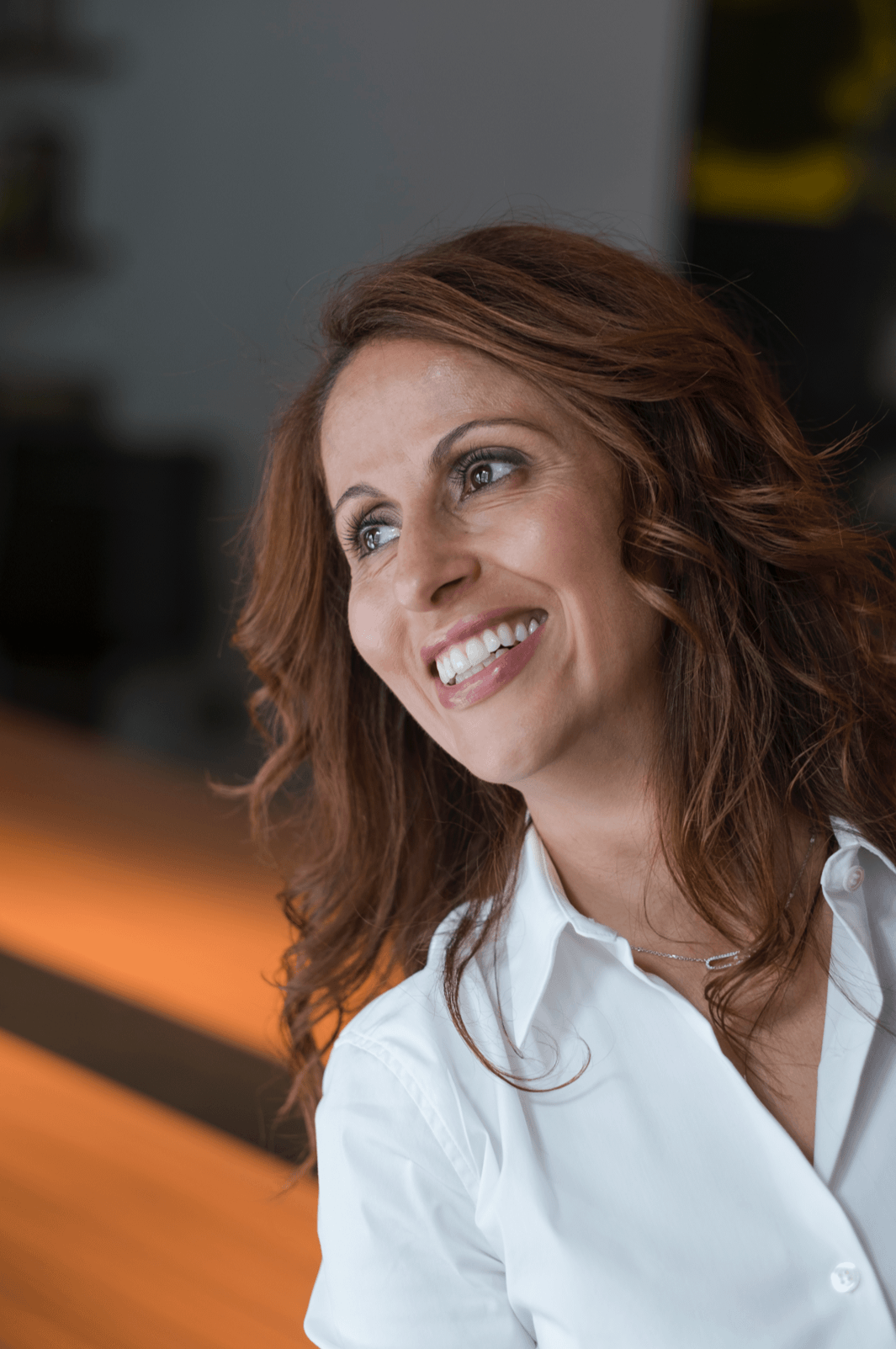 Nora Melhli has built her career as producer both in France and abroad. A former high-performance athlete (1500m), she speaks French, English, Spanish and Arabic. She joined the international co-production department of Dune Productions in 1998, then joined the Lagardère group in 2002 and partnered with Jérôme Minet at Studio International before selling it to Telfrance five years later. During this time, she produced films and mini-series in co-production with several European countries, shot both in France and abroad. Her credits during this time include Pepe Carvalho, Colette, Bel Ami and l'Affaire Villemin.
In France she created the Original Drama divisions for two of Europe's largest international groups: Endemol in April 2007 and Shine in September 2012. During this time Nora produced Yann Piat, chronique d'un assassinat for Canal+, the series The Tunnel in co-production with Canal+ and Sky UK, and Malaterra for FranceTV, adapted from the British series Broadchurch.
Nora Melhli joined the Altice Group in 2016 as Creative Director of Originals. There, she developed the group's international cinema and series strategy. She coproduced the series The Medici, Riviera, Britannia and Tin Star.
In 2018 she joined forces with Jacques Arthur Essebag to co-found ALEF ONE. Since then, she has developed and produced films and series such as FLIGHT MH370, Water Wars and Carlos Ghosn: The Last Flight (especially for the BBC)  for the French and international markets.
From September 2011 to December 2013, Nora was Vice-President of the Innovation Support Fund at the CNC (National Centre for Cinema and the Moving Image). She has also been, several times, a member of the Advisory Board of the "Festival Séries Mania".
Nora was elected president of the SPI audiovisual board (Independent Producers Union) in May of 2021.
Since Spring 2018
President and Executive Producer
Development, production, co-production of series for French and international markets, linear and digital.
"Carlos Ghosn The Last Flight" (1×90′ and 3×45′) Directed by Nick Green, Official Selection at Sheffield International Documentary Festival. For MBC and BBC Storyville.
"Flight MH370" mini-series (6×45') Created by Gilles Bannier adapted from books of Ghyslain Wattrelos "Flight MH370, a highjacked life" and Florence de Changy "Flight MH370 did not disappeared". Written by Laurent Mercier, Tim Loane and Gilles Bannier (in development)
"Carlos Ghosn" (working title – 6×52′) Series written by Mark Goffman, directed by Charlotte Brändström (in development)  
"Water Wars"

 

(8×52') Created by William Boyd, directed by Charlotte Brändström (in development)

"Intra Muros 75" (10×45′) Created by Alexis Jaulmes, written by Alexis Jaulmes, Doria Achour and Sylvain Cattenoy (in development)
"U4" Series created by Rodolphe Tissot, written by Rodolphe Tissot, Marianne Pujas and Julien Capron. Adapted from the book collection U4 (in development)
"Uprooted" Film directed by Andy Amadi Okoroafor, written by Andy Amadi Okoroafor and Fadette Drouard, starring Sonia Rolland (in development)
February 2016 to February 2018
Director of Original Creation & Executive Producer.
"Britannia" season1 (9×50') created by Jez Butterworth in co-production with Sky Vision for Sky, Altice & Amazon
"Tin Star" season 1&2 (2x10x45') created by Rowan Joffe in co-production with Sky Vision for Sky, Altice & Amazon
"The Medici" season 1&2 (2x10x46') created by Franck Spotnitz for RAI, Altice, Telefonica, Netflix US & UK
"Riviera" season 1&2 (2x10x45') created by Neil Jordan in co-production with Sky Vision for Sky UK, Germany & Italy
"Taken" season 1&2 (26×45') NBC Studio, EuropaCorp & Altice "Sirens" season 1&2 in co-production with HOT Israel
"Place Publique" Feature film in co-production, directed by Agnès Jaoui and co-written with Jean-Pierre Bacri
September 2012 to March 2016
Head of Drama, Chief Operating Officer & Executive Producer
"The Tunnel" season 1 (10X46') for Canal+ and Sky Atlantic HD (in co-production with Kudos film & TV)
Written by a french and british screenwriters team lead by Ben Richards.
Directed by Dominik Moll, Udayan Prasad, Hettie Macdonald, Philip Martin and Thomas Vincent (Best Performance by an Actor for Stephen Dillane at the International Emmy Awards 2014, Best TV Series at the Globe de Cristal 2014)
"The Tunnel" season 2 (8X46') for Canal+ and Sky Atlantic HD (in co-production with Kudos film & TV), written by a french and british screenwriters team lead by Ben Richards, directed by Mike Barker, Gilles Bannier, Tim Mielants and Carl Tibetts
"Malaterra" (8X52') for France 2 (adaptation of the series Broadchurch), written by a french screenwriters team lead by Stéphane Kaminka
"Dead Landes" (10×26') Directed by François Descraques for France4
April 2007 to July 2012
Head of Drama, Chief Operating Officer & Executive Producer
« 100 pages blanches» (1X90') directed by Laurent Jaoui for France 2
« Kanak, l'histoire oubliée » (1X90') with Christian Karembeu collaboration, directed by Stéphane Kappes for France 2 ("Special Jury Prize" and "Best Promising Male Actor Award" – 2013 Luchon Festival)
«Yann Piat, chronique d'un assassinat» (1X110') directed by Antoine de Caunes for Canal + ("Special Jury Prize & "Audience Award" – 2012 Luchon Festival)
«Il était une fois peut être pas» (1X90') directed by Charles Nemes for France 3 ("Best Male Actor Award" & "Best Music prize" – 2012 La Rochelle Fiction Festival)
« 37 » a short series directed by Mickaël Souhaite for M6
« Victor Sauvage » (series 3X 90') for TF1 in coproduction with PM Production
«Véronique Sanson, une fée sur son épaule» documentary directed by Claude Ardid for France 5 (Empreinte collection)
«L'Arbre de mai» documentary fiction directed by Claude Ardid for France 3 and France 5
2002 to March 2007
Head of Drama, Chief Operating Officer & Executive Producer
« L'Affaire Villemin » (6X52') directed by Raoul Peck for France3 and Arte ("Le Film Français prize" – by Le Film Français Magazine)
« Sécurité Intérieure » (8X45') directed by Patrick Grandperret for Canal+
« Colette » (2X100') directed by Nadine Trintignant for France2 ("Best Female Actrice" FIPA 2004)
« Les Zygs » (2×100') directed by Jacques Fansten for France2
« Le Vol de la Joconde » (2X 90') directed by Fabrizio Costa for France2 and Mediaset (in co- production with Tangram production)
« Bel Ami » (1X 90') directed by Philippe Triboit for France2
« Le Meilleur Commerce du Monde » (1X90') directed by B.Gantillon for France3
« Le Voyageur sans Bagage » (1X90') directed by Pierre Boutron for France3
1998 – 2001
Deputy Head of International Co-productions
"Groupe Flag" (6×52') for France2
"Dark Realm" (13×52') in co-production with Warner Bros. and UFA (Germany) for Canal+ and France2
"Code Name:Eternity" (26×52') in co-production with Warner Bros. and UFA (Germany) for M6
"Robin Hood" (52' series) in co-production with Warner Bros. and UFA (Germany) for M6